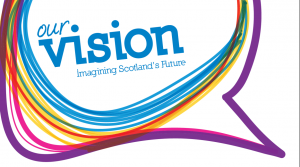 You are invited to a respectful dialogue on Scotland's Future Now at The Steeple Church on Wednesday 5 November starting at 7pm
In the year before the referendum, the Church of Scotland and SCPO (Scottish Churches Parliamentary Office) invited people across Scotland to "Imagine Scotland's Future", thinking especially of the key values people wanted to see shaping our future. Much of the civic energy that was evident in the referendum campaign also focussed on a vision for the kind of Scotland we want to live in.
Now that we have decided to go forward as part of the UK, how do we work together, keeping hold of the vision and energy, without letting it slip into political parties point-scoring over the timetable and details of new powers for the Scottish Parliament?
On 5 November, the Church of Scotland will host an event in St George's Tron Church in Glasgow, where leading figures from both referendum campaigns, along with a more neutral voice, will offer their vision for our future, to spark discussion on "Scotland's Future Now".
The Glasgow event, chaired by the Moderator, will be live-streamed – The Steeple Church will be sharing in the 'live-stream' and after listening to the keynote speakers there will be local discussion. SCPO will co-ordinate responses from all the venues.
What are the key areas for our values to be realised? How do we get there?