The Dundee Nativity play is available to watch now. To read the backaground story 'No Zoom at the Inn?' click here
In search of a star
People walking in Balgay Park recently were surprised to see three Wise Persons from the East making their way to Mills Observatory. On being approached by a curious dog walker, they told him they were in search of a star, and having travelled to Dundee, the observatory seemed a good place to start.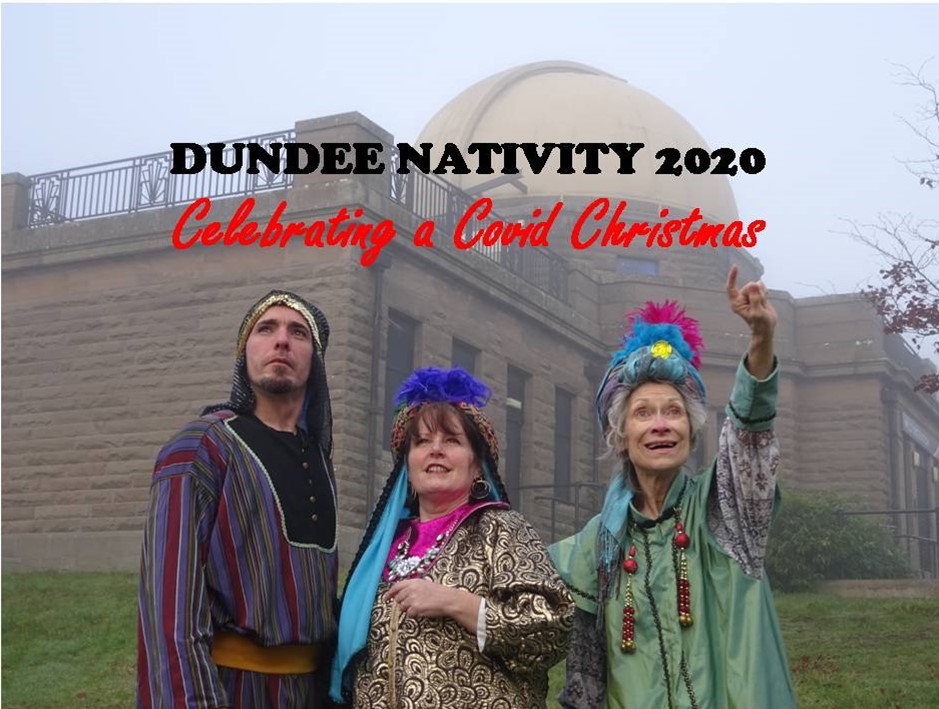 They had learned that, because of Coronavirus restrictions, there are no live performances of the Dundee Nativity, which over the past ten years has been part of the programme for the traditional Christmas Lights event in the city centre.
However, a professionally filmed version of this year's nativity play, will be available on YouTube and Vimeo from 11th December. It provides an entertaining and relevant slant on the events of the first Christmas. In this year's unusual circumstances because of the pandemic, Dundee Nativity – Celebrating a Covid Christmas aims to bring a message of hope, encouragement and reassurance to all who are struggling with the situation. Through drama, music and dance, it promotes the celebration of Christmas in a way that is funny, thought-provoking and for all ages.
Thanks to a generous grant from Dundee City Council's new Festive Fund, copies of Dundee Nativity – Celebrating a Covid Christmas on DVD are being offered to care homes, hospitals, and others unable to access the internet.
The video will be available to watch here from 11th December onwards.